Health Insurance Quotes - Kanas City, MO (2018)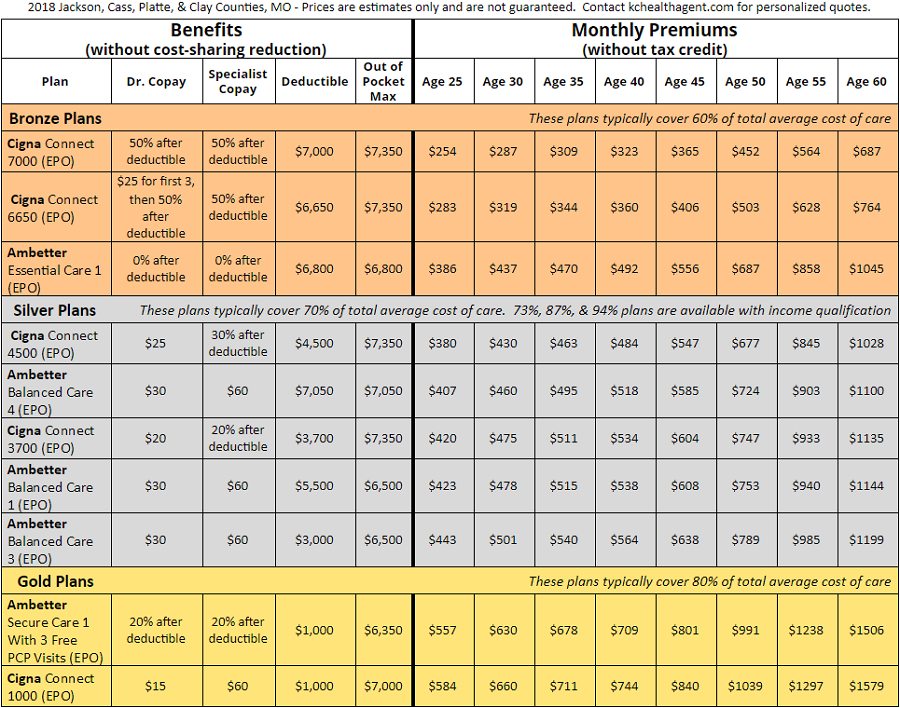 Health Insurance Quotes - Johnson & Wyandotte, KS (2018)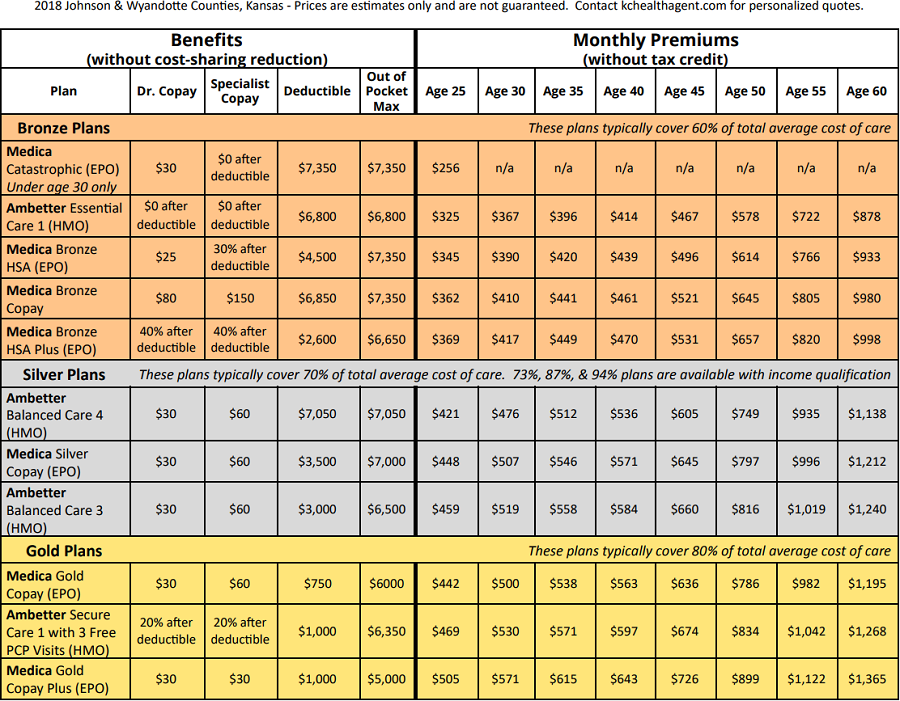 Health Insurance Quotes - West / NW MO (2018)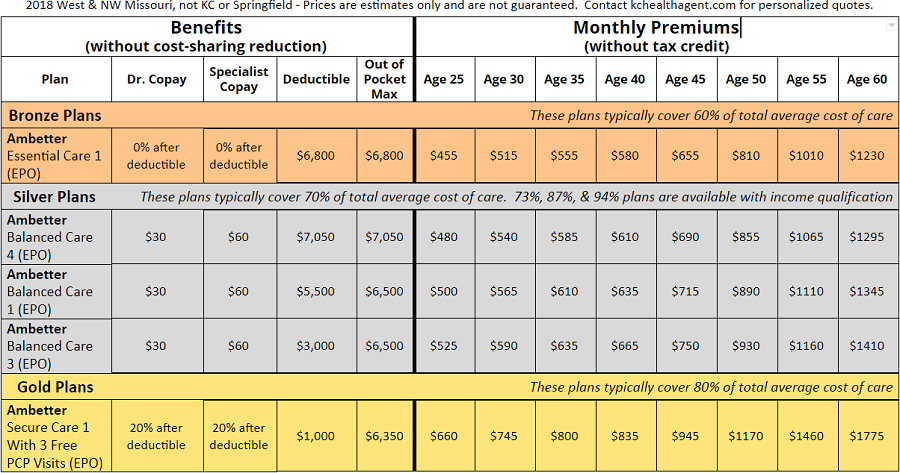 Health Insurance Quotes - Springfield MO (2018)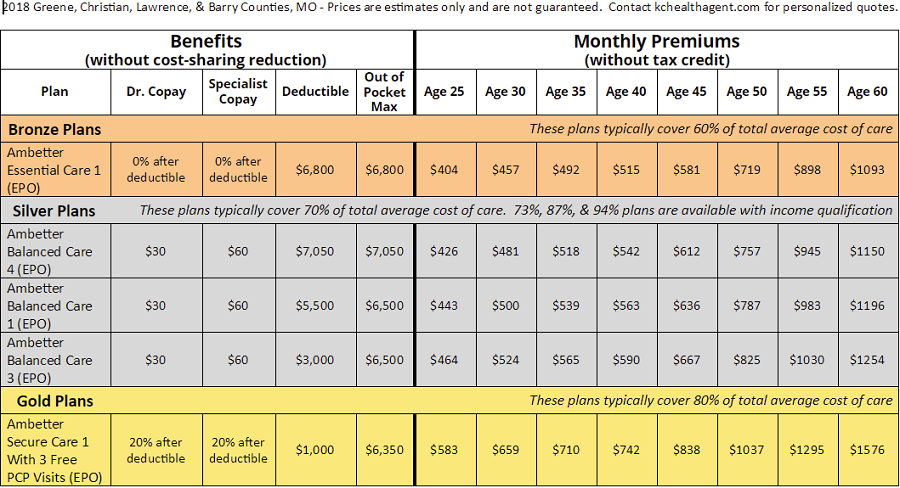 Health Insurance Quotes - Saint Louis MO (2018)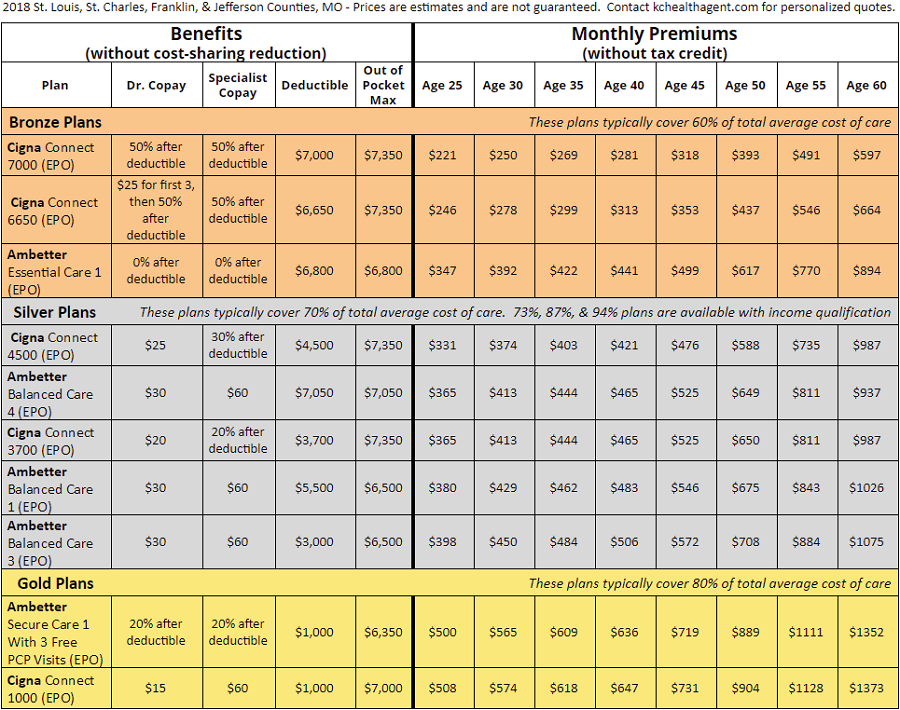 Health Insurance Quotes - Wichita KS (2018)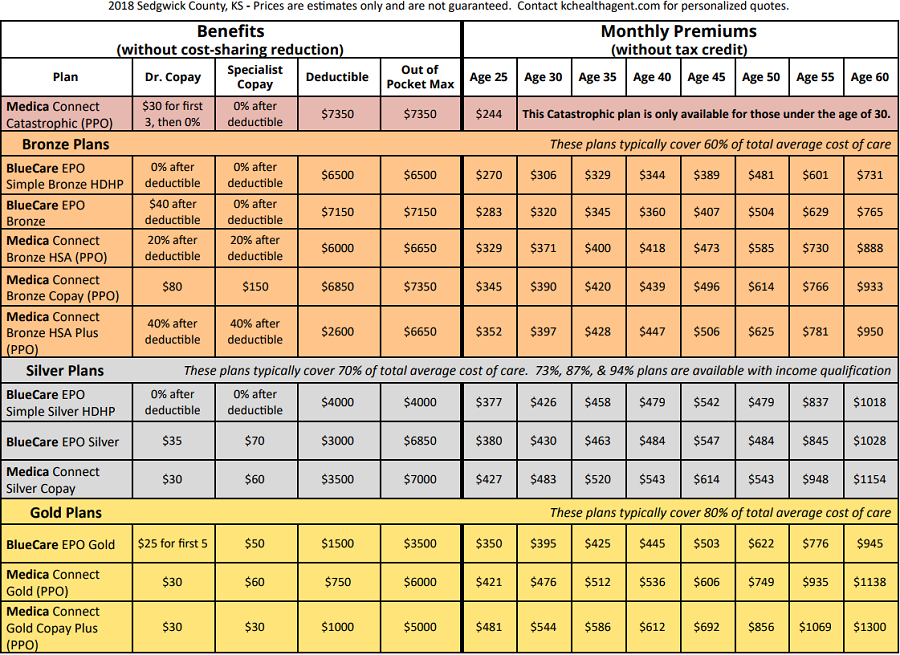 2018 Health Insurance Open Enrollment runs November 1 - December 15.
Open Enrollment is the only time of year most people can enroll in or change their health plan. When you enroll during this time period (Nov 1 - Dec 15), your effective date for your new plan will be January 1st, 2018. If you try to enroll after December 15, you will be denied, unless you lose employer coverage or have another similar life event.
If you need specialist visits covered, you will likely need to choose a Silver or Gold Plan.
Bronze Plans rarely cover specialist visits before your deductible. Many Silver plans cover specialist visits in form of a "Copay" that is paid by the member. Most Gold plans cover specialist visits, usually at a lower copay than the Silver plans (unless you qualify for Cost Sharing Reduction). Specialist copays are generally anywhere from $40 /visit - $80 /visit, depending on the plan.
CSR, or Cost-Sharing-Reduction, is available only on Silver Plans.
Qualifying for Cost Sharing Reduction is like qualifying for health insurance with enhanced benefits. These enhanced benefits come in the form of lower copayments, lower deductibles, lower coinsurance amounts, and lower out-of-pocket max amounts. Three levels of CSR enhanced benefits are available. If you're a single individual, you would qualify for the 73% level of enhanced benefits if you make less than $30,000. The next level is 87%, which would require an income of $24,000 or less. If you make under $18,000 and file taxes as an indivual, you would qualify for the 94% CSR level. For couples and families, your income can be higher to qualify for CSR. If you do qualify for the 87% or the 94% level, it is HIGHLY recommended that you purchase a Silver plan, as these benefits are significantly better than you would get on a Bronze or Gold plan. You should also get a APTC that will help you pay for the plan.
An APTC, or Advanced Premium Tax Credit, pays part or all of your monthly premium for health insurance for you.
You must make under 400% of the federal poverty level to qualify for this tax credit. This is about $47,000 or less if you are a single individual. The tax credit amount you receive is based on your next year's income, 2018. For example, if you are a 40-year-old single individual living in Johnson County, KS, estimating an income of $30,000 for 2018, you will receive a tax credit amount of $369/month. This means that your monthly premium will be $369 cheaper per month than it otherwise would have been. If you estimate $30,000 as your 2018 income, but actually make $35,000, you would then owe additional money on your taxes to repay the amount back that you shouldn't have received. If you estimate $30,000, but actually make $25,000, you will receive a tax refund amount for the difference that you should have received. So it is advised that you try to be as accurate as possible on your income estimation.
In Kansas City, Missouri - Jackson County - only two companies are offering individual coverage.
Ambetter is new in Kansas City for 2018, while Cigna is also offering plans. BlueCross BlueShield of Kansas City dropped out for 2018, as have many other health insurance companies since the start of the Affordable Care Act (aka "ACA", "PPACA", and "Obamacare"). Ambetter Health and CIGNA also offer plans for Saint Louis in 2018.
In Johnson and Wyandotte Counties in KS, only two companies are offering individual coverage.
Ambetter is new in KCK for 2018, while Medica is also offering plans. BlueCross BlueShield of Kansas City dropped out for 2018, as have many other health insurance companies since the start of the Affordable Care Act (aka "ACA", "PPACA", and "Obamacare"). Medica also offer plans for the rest of Kansas in 2018.
Much of Missouri only has one company offering health insurance.
For some areas, this is serviced with Ambetter Health. Other areas are serviced by Anthem BlueCross BlueShield (not to be confused with BCBS of KC). Springfield, Missouri is covered by Ambetter, which covers Mercy Hospital, but does not cover Cox Health Systems.
EPO's, HMO's, PPO's are different types of networks.
This is important to know.
EPO's and HMO's do not cover any doctor or hospital outside of the network. This means that if you go to the wrong hospital, you will have to pay the entire bill and will not be covered. On the other hand, PPO's allow you to go outside of the network and be covered, but usually with a higher deductible. PPO's don't require a referral from your primary doctor to see a specialist. HMO's usually require a referral from your Primary Doctor. EPO's sometimes require a referral.
Unfortunately, in 2018 there are no PPO networks available in the Kansas City area. Medica offers PPO network plans if you live in Kansas (outside of Johnson & Wyandotte Counties). No PPO's are available in Missouri.
EPO stands for Exclusive Provider Organization.
HMO stands for Health Maintenance Organization.
PPO stands for Preferred Provider Organization.
Preventative care is covered at 100% without needing to meet the deductible.
Blood Pressure Screening, cholesterol screening, colorectal cancer screening (over age 50 only), depression screening, type 2 diabetes screening, Immunization vaccines, and more are covered for all adults.
Women are also covered for Anemia screenings, breastfeeding support and counseling, contraception (birth control), folic acid supplements, urinary tract infection screening, breast cancer genetic test counseling, breast cancer mammography screening, cervical cancer screening, well-woman visits, among others.
Dental coverage is not included in health insurance plans.
With the exception of checkups for children under 18 in some cases, dental is typically not included and must be purchased separately. CIGNA has no waiting period in Missouri for its dental plans. Most of the plans make you wait 6 months - 1 year before being covered for cavities and other dental work. Dental plans can be purchased year-round outside of the health insurance marketplace.
Ask an Insurance Question
Get Free Insurance Quotes and Advice